WHO declared Coronavirus, or COVID-19, a world pandemic in March. It has been almost three months, and the world is still fighting the deadly disease. You need to Boost your Immune System To Fight with Corona-Virus.
Staying home as much as possible, wearing a mask when going out, and keeping a suitable distance has been termed the new civilization.
The virus that entered the Indian subcontinent is now supposed to stay here for longer. There are safety measures that have to be taken before we start getting back to our lives.
Some steps about boosting the immune system should be the new normal.
How to Boost the Immune System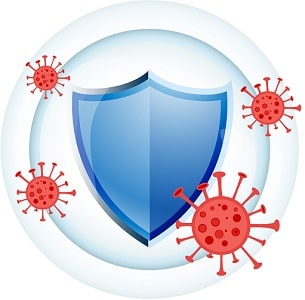 Our immunity is the safety system of our body to keep any foreign, un-friendly invaders away.
Having good immunity means that your body system can resist the bacteria and viruses that might be present in the air you are breathing in.
Right now, we are in a never-before health crisis. The virus and the disease caused by it are novel.
So, the only thing we can rely on right now is precautions and safety measures.
When we discuss precautions, keeping up with the immunity to fight the coronavirus comes under it. The AYUSH department of the government of India has given great importance to immunity in times of coronavirus.
Your strong immunity will keep you safe from the invasion of the virus. So, let's begin to discuss how we can do that.
Read: How To Build an Athlete Immune System
Improve Immune System Naturally
The immune system is a mechanism that is genetic in your body. Some people have a strong one of it, while others tend to be weaker in this section. To fight diseases, you must have a more robust immune system.
Although, it is an unstable phenomenon. It keeps on going up and down according to your lifestyle. So, to keep up with the immunity to avoid all the bacteria and viruses, here are some steps and tips you can use to boost your immunity.
Food For Improve Immune System
Of course, the food you eat is one of the most important. The food you eat can play a part in beating the coronavirus. Eat nutritious food rich in antioxidants, vitamins A, E, and C, zinc, and selenium.
There is no booster pill for immunity. Your good eating habits only can help you build a sound immune system. Add herbs like ginger, garlic, tulsi, etc., to aid your strength.
Read: 5 Popular Myths About Immune System During COVID-19
Do not Compromise on Your Sleep. 
Your sleep and rest are as important as your workout. Your body will only strengthen and heal itself if it has rested enough. So, give good importance to your sleep. Do not push your bedtime. Sleep on time and wake up on time.
Complete at least seven to eight hours of sleep at night. It will keep you active and changed for your daily activities.
Avoid Packaged Foods 
You should always avoid packaged foods. But, when you are focusing on building your immunity to prevent coronavirus infection, try to avoid them.
Eat freshly homemade food and use organic ingredients while cooking in your kitchen. It is even better for the health and safety of your loved ones.
Read: How to Improve Immune System Naturally with Copper Gluconate USP
Exercise in Routine 
Yes! Exercise is good for health and better immunity. Practice yoga that will enhance your body system from the inside. Try on some core-strength exercises to strengthen your system from the outside and inside.
De-Stress Yourself
It can be a lot to ask right now when the whole world is under legitimate stress, but that will not help you stay safe.
So, instead, what we can do is to keep ourselves relaxed, positive, and away from stress because stress is directly proportional to the immune system. That's why stay away from stress and the risks of diseases or infections.
Read: Top 9 Yoga Benefits for Health
Conclusion 
Your eating habits, sleeping patterns, and lifestyle will affect your immunity. So, take food to improve your immune system and be careful of them. Not just in the times of pandemic, but always.
Apart from that, you can also take some good experts' recommended immunity booster supplements based on natural ingredients, like neem, tulsi, ashwagandha, etc. Keep washing your hands and, of course, maintain social distancing.
Keep Visiting Ehealth Spider for more updates about how to boost the Immune System. You Can Follow Us on Twitter and Facebook.